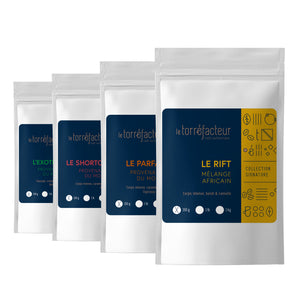 Signature coffee set
Sale price Price $37.50 Regular price Unit price / per
The set includes our 4 house-roasted Signature Blends in a 150g format each. Try them in espresso, latte, French press or filter coffee.
Suggested Roast: Dark Brown (Espresso ) Suggested Brew: (all) espresso, oven-top coffee maker, filter, french press or percolator
Try our organic coconut sugar which contains more vitamins and minerals than refined white sugar and has a lower glycemic index, making it the perfect alternative. Its taste is similar to brown sugar which offers delicious notes of caramel. Perfect for baking and/or sweetening your coffee.
Which coffee grind to choose and what is its importance?